For the TV show aficionados, the amount of new series coming out exclusively on various streaming platforms is honestly overwhelming. The thing with most of these shows is that it's quite hard to surprise you as a viewer. You stick around to find out what's going to happen in the end but you aren't emotionally invested. If you do want to find something original to enjoy on a free evening (or breakfast or lunch since a lot of us still work from home and can watch an episode in-between your daily tasks), let us help you. Let us be that one friend who recommends an overlooked original show.
Giri / Haji, a BBC series that is available right now on Netflix, came out at the beginning of last year but due to a lack of heavy online\offline promotion was quickly forgotten under big premieres and exciting new seasons. A true Netflix hidden gem, crossing genres, cultures, forms, and emotions.
The show follows a story of a Tokyo policeman Kenzo Mori (played by Takehiro Hira) who heads to London after a murderer. Sounds not as appealing? A cliche crime drama? Even if this synopsis sounds familiar, you aren't prepared for what it has for you inside. It's a cop show, but also involves yakuza, it has a warm melodrama while showing a difficult family relationship drama. It's funny but at the same time can make you cry with its touching and dark scenes.
Kenzo is after not only a gang member who has betrayed his master but after his own brother Yuto, played by Yosuke Kubozuka ("Silence"). A gang war is about to start and London holds the key to the conflict. There, Sarah Weitzmann (played by the amazing Kelly Macdonald), a cop teaches Kenzo a criminology class, suspecting something of his secret mission.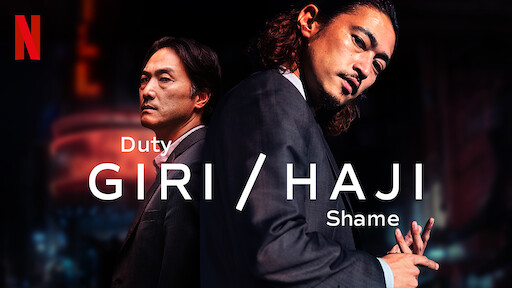 The idyll of the newly formed international team is interrupted when the police officer is followed to London by his teenage daughter, who can't find a place for herself in Tokyo. In the capital of Japan, meanwhile, there is a secret criminal war, in which the remaining family of the police officer and his yakuza brother are involved.
The true star of the show is Rodney Yamaguchi (played by the brilliant Will Sharpe) who ends up in the middle of the family drama by accident. Rodney is half-Japanese, he's an addict and a sex worker with a broken heart – his character development is perhaps one of the most interesting in the whole show. Will Sharpe is an actor to look out for.
Those aren't even all the amazing cast members, the show is full of British and Japanese talent. Seeing shows like this premiere on BBC is truly delightful: Giri / Haji is not afraid to put a lot of dialogue in a foreign language, and experiments with its narrative, forms, and techniques. The show keeps surprising the audience with sudden deaths, scary glimpses into the organized crime world, epic chases, and fights. The finale of the show causes a storm of emotion, thanks to its emotional and unforeseen narrative change.
Text: Alina Berezhnaya